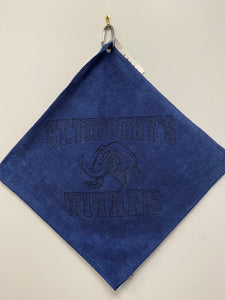 This navy blue Microfiber Towel offers 7 times the absorbency and 3 times the wicking power of cotton. These towels are stain resistant, and have anti-microbial characteristics that render them odor resistant as well. Microfiber dries faster and requires less maintenance than cotton. 
Sized at 16″ x 16″, every towel comes with an easy to use carabiner clip. Wash and re-use often. 
Use for any sport or even as a small sitting space for lunch or break.